term: spring | date: 25th january, 2021

Can't get enough of volunteering? Well, Advanced Game Project needs you! Come playtest some awesome student designed pieces. Opportunities to volunteer will extend until the end of the spring semester, so there will plenty of chances to join in and potentially win the grand prize: a brand new XBox X or Playstation 5!
Sign up for a chance to play (and win) HERE.
Well it's January, which means we're ramping up to the USC Games 2021 Expo (are ya excited?!? get excited!) and we want YOU to be a part of picking the logo for this year! Every year we tweak the event logo and this year's no exception.
We'd like to tally results on 1/22 (Friday) EOD, so please take 5 minutes or so and vote now!
More details HERE, with around 14-15 options to choose from. Have fun!
Every semester, Open Alpha brings a game from conception to an open alpha release with a tight-knit group of student developers. NO EXPERIENCE REQUIRED! We're looking for designers, programmers, artists, composers, writers, or anybody passionate about making games or learning how to make games. Applications close Saturday 1/23! Apply and learn more on our website.
The USC Games-Thornton collaboration is back! We all know that music and sound does a huge amount to shape the experience of a game—here's a chance for you to collaborate with some incredibly talented composers, no matter what kind of game you're making!
Professor Garry Schyman of the USC Thornton School of Music (BioShock, Middle-earth: Shadow of Mordor) and Richard Lemarchand (USC Games) are organizing a pitch session at 12:30pm on Thursday, 11th February (Week 4), to match our awesome USC Games projects with the amazingly talented composers in Garry's class "Advanced Game Scoring and Integration!"
If you have music composition needs for your game projects, no matter what kind of game it is, and whether it's in a class or not, you can sign up to find a composer by filling out the short form HERE.
This semester we are welcoming AGP projects, thesis students in both their second and third years, projects from other classes, and any and all personal projects! Many of the composers in Gary's class are already working professionals, and the quality of their work is extraordinarily high. Don't miss out on this opportunity to collaborate, network, and learn!
We will accept applications until 5pm on Thursday 4th February, so don't delay in applying.
Then, in order to get matched with a composer, we'll ask you to put together a "one-sheet" with an overview of your game (including just a little text and lots of pictures) to help you to pitch it to the composers. The one-sheets will be due on Tuesday 9th February at 12pm (noon), and you can read more about them, and the whole process, HERE.
We can't wait to see (and hear) your projects!
USC football alum, Lawrence Jackson, has just released a line of apparel in the USC Bookstores.
One of only two players in NCAA history to start 51 of 52 games, Lawrence Jackson represents the best of USC's legacy with ambition and fearlessness. Bringing this commitment to excellence from the football field to fashion, we introduce the Lojack Collection. This is legendary apparel that represents the Five Traits of being a Trojan with a new casual style.
Proceeds from the sale help fund USC Athletic Scholarships and programs. You can check out the collection HERE.
Saturday, January 26th, 2:00PM – 3:00PM
We are pleased to announce the first USC USC SensoriMotor Assessment and Rehabilitation Training in Virtual Reality (SMART-VR) Center virtual Community Showcase on January 26, 2021 from 2-3 pm. This will be the first in a series of showcases featuring short, exciting talks by members of our SMART-VR community about their current research and VR/AR projects.Talks will be accompanied by immersive, 360° demo content that you can view on your own, in the comfort of your own home, using a VR cardboard headset.
Thursday, January 28th, 6:30PM – 7:30PM

Join TEA@USC on January 28th as we kick off our spring semester with Walt Disney Imagineering's Scott Trowbridge, Margaret Kerrison, and John Larena for an exciting panel diving into the creation of Star Wars: Galaxy's Edge and its revolutionary attraction Star Wars: Rise of the Resistance.
Monday, February 1st, 9:00AM – 11:30AM


The Brains and Games Brainstorming Workshop is a fast-paced online design fiction workshop about creating a digital game employing futuristic brain-to-brain interaction (BBI) technologies. The workshop introduces (a) the concept of speculative design; (b) foresight as a means for exploring alternative futures; and (c) the current state of the art, as well as, the envisioned capabilities of BBI technologies. Also, through a series of engaging and fun creative thinking activities, participants are guided towards the conceptual design of a BBI "game from the future". The main goals of the workshop include understanding emerging BBI technologies and their potential impact to the (near and distant) future, creative and critical thinking and having fun.
This workshop will begin at 9:00 AM PT on February 1st, 2021 and will last for 100 + 40 (optional) minutes. It will include an introductory presentation, a short break, design exercises, and an (optional) 40-minute working session where teams can develop a rough submission to the Brains and Games competition.
Note: Participation in this workshop is not required to submit to the Brains and Games Competition. We will record and post the workshop on YouTube as guidance for those who were unable to attend on February 1st.
Thursday, January 28th, 5:30PM – 7:30PM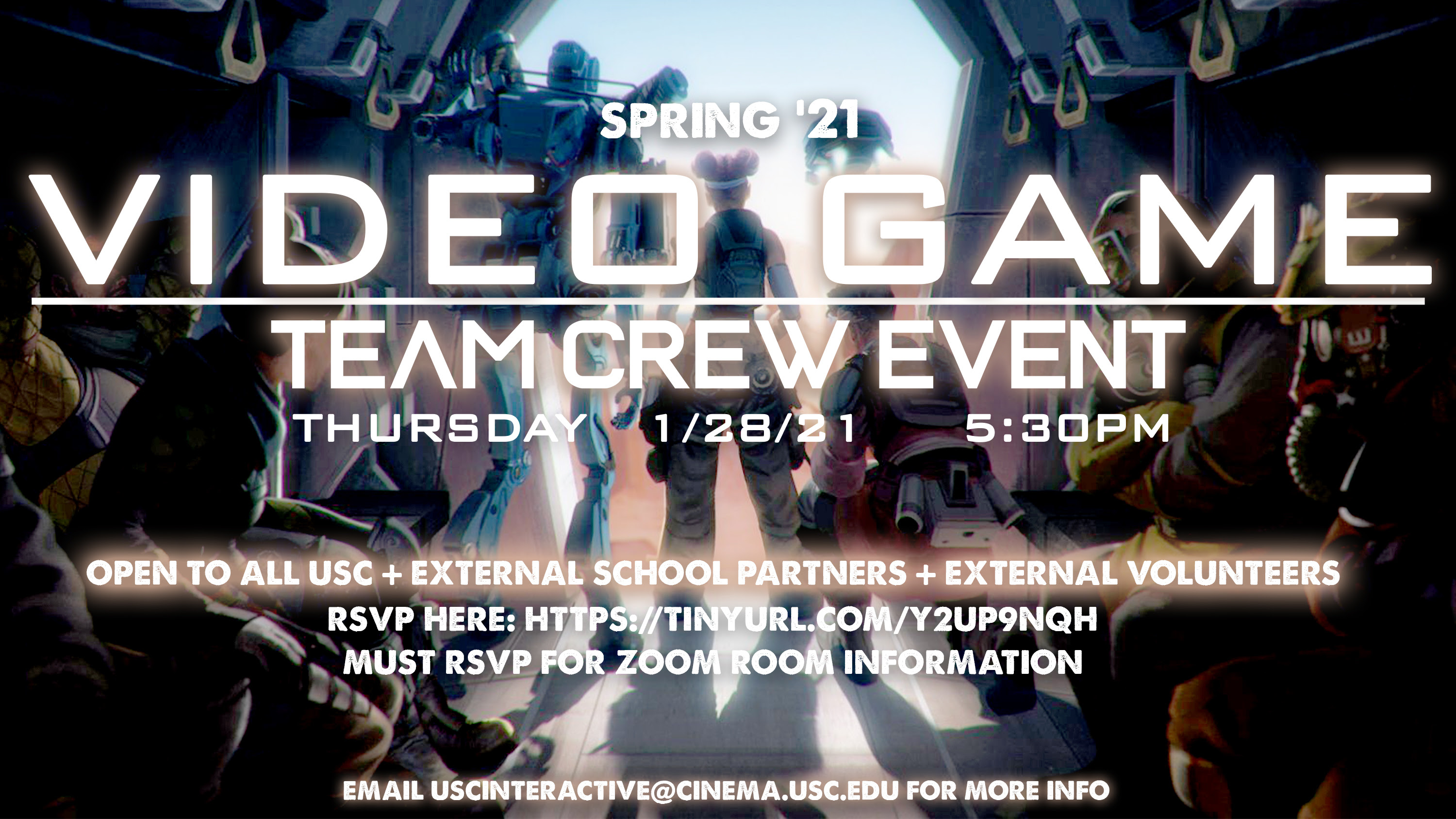 This event will be open to all students who are looking to join an AGP or Thesis project for this upcoming year. Hear about what games can be joined, what roles need filling, and how you can be involved. Students from USC Games and beyond can come to hear pitches for this year's AGPs and find a way to participate in the class for Spring Semester. We will be looking for artists, engineers, and marketing people primarily (but not exclusively!) to work in-class on one of our ten games.
Friday to Sunday, January 29th – 31st, 5:00PM –

USC Games is proud to continue its Global Game Jam legacy into this new, remote world. Using distributed development techniques taken straight from Industry, and almost 9 months of learnings gathered from our faculty regarding best practices for virtual education and organization, we are confident that USC Games' GGJ Online will continue to set a high bar for excellence.
Kickoff for the event is January 29th at 5:00PM PST. Zoom links will be available closer to the event. All USC Friends and Family are invited!