term: fall | date: 7th September, 2021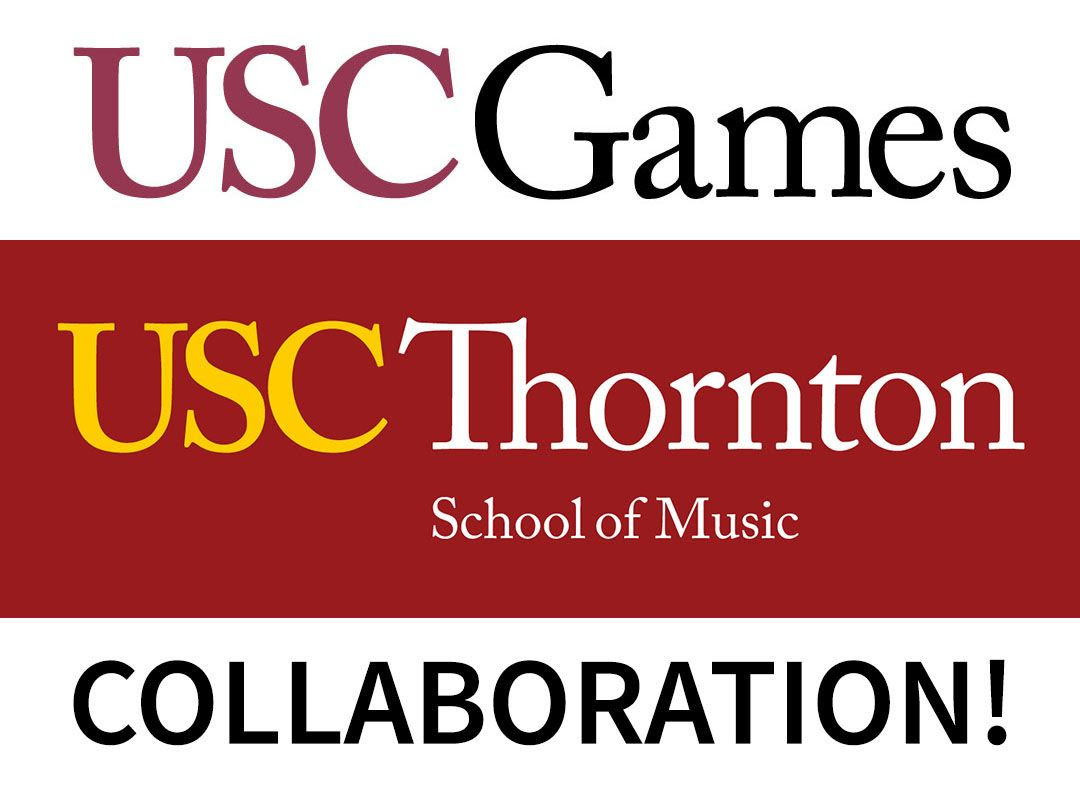 The USC Games-Thornton collaboration is back! We all know that music and sound does a huge amount to shape the experience of a game—here's a chance for you to collaborate with some incredibly talented composers, no matter what kind of game you're making!
Professor Garry Schyman of the USC Thornton School of Music (BioShock, Middle-earth: Shadow of Mordor) and Richard Lemarchand (USC Games) are organizing a pitch session at 12:30pm on Thursday, 23rd September (Week 5), to match our awesome USC Games projects with the amazingly talented composers in Garry's class "Advanced Game Scoring and Integration!"
If you have music composition needs for your game projects, no matter what kind of game it is, and whether it's in a class or not, you can sign up to find a composer by filling out the short form here.
This semester we are welcoming AGP projects, MFA thesis projects, projects from other classes, and any and all personal projects! Many of the composers in Gary's class are already working professionals, and the quality of their work is extraordinarily high. Don't miss out on this opportunity to collaborate, network, and learn! Applications are open until 5pm on Thursday 16th September.
Then, in order to get matched with a composer, we'll ask you to put together a "one-sheet" with an overview of your game (including just a little text and lots of pictures) to help you to pitch it to the composers. The one-sheets will be due on Tuesday 9th February at 12pm (noon), and you can read more about them, and the whole process, here.
We can't wait to see (and hear) your projects!
Very best,
Richard Lemarchand & Garry Schyman

How can game design enhance the development of innovative approaches to visualizing and contextualizing complex data?
The National Cancer Institute (NCI) invites game developers to apply for the Visualizing Data in Context for Novel Insights Innovation Lab to be held November 1-5, 2021. If you're interested in using your expertise in game design to address how cancer researchers and clinicians interact with increasingly complex, multi-dimensional data, then we encourage you to apply!
This Innovation Lab will bring together experts in UX, data visualization, game design, and immersive media together with cancer researchers, biologists, and imaging scientists interested in forming new collaborations around developing innovative approaches for visualizing and contextualizing multi-dimensional cancer data. Over the course of an intensive five days of mentoring, interdisciplinary teams will work together to form, pitch, and develop project sketches that address challenges to interacting with and gaining visual insights from complex cancer data. Could your game development knowledge help create a data interaction paradigm that unlocks a new generation of cancer insights?
If you're interested, please complete and submit an application to attend by September 8th.
Any Questions?
Please contact Dave Miller for additional information about the Innovation Lab.
Wednesday, September 8th, 11:00AM – 12:50PM


CTIN-487 Is excited to welcome Jimmy Chan, Collegiate Esports expert and 3 year Customer Experience Specialist at Twitch! Before coming to Twitch, Jimmy has worked on both the Collegiate StarLeague as a Tournament Administrator and in Super League Gaming as an Action Squad Member and coordinator for players. Jimmy is an expert in the administrative side of Esports, founding the University of Houston's Esports league and setting up other events such as the Texas Esports Collegiate Summit. Jimmy knows both Twitch and the college Esports industry like the back of his hand. Come join us this Wednesday, September 8th at 11am PST in SCI 106!
*Face masks and a valid Trojan Check are required for attendance to all USC classes and events.
Friday, September 10th, 4:00PM – 5:00PM


The Makers of Entertaining Games Association (MEGA) is a student run organization which strives to promote and facilitate the art of game creation within the University of Southern California. Our purpose is to create a platform for student game developers to network, collaborate and learn from each other through peer-based events and game jams, as well as provide resources to help grow their interests and careers.
MEGA organizes workshops, game jams, and student speaker events to build a community of game developers of all experience levels and strengths. No experience is necessary to join, and all majors are welcome! Our first meeting of the year will be taking place next Friday, September 10 at 4 PM PST. We'll be talking about what events we have planned for this semester and what our members can expect this coming school year. If you're interested, the sign-up form is here.
*Face masks and a valid Trojan Check are required for attendance to all USC classes and events.
Wednesday, September 8th, 6:00PM – 10:00PM


The Career Center, in collaboration with HG Plus and other USC partners, hosts this fair to connect international students with overseas opportunities, as well as domestic, visa-sponsoring organizations in search of your valuable foreign language skills and unique global perspectives. Employers participate in this fair to recruit for full-time, part-time, and paid internship opportunities using our virtual career fair platform. Thank you to our fair sponsors: iMEBO and ATL USA Inc.!