term: fall | date: 13th September, 2021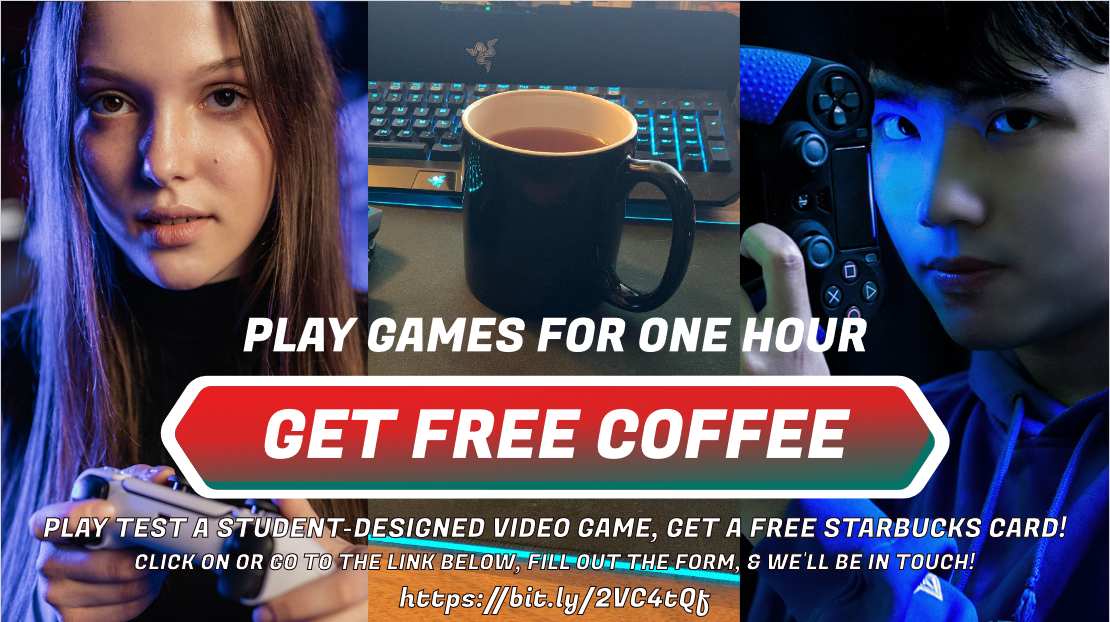 What are you volunteering for? You're volunteering to participate in a Play Test Session for a student-designed game! To enter click HERE and complete the brief form and we will get back in touch with you.
Come experience games currently being developed by USC students! To thank you for your time, you will also receive a gift certificate for Starbucks.
Thursday, September 16th, 12:00PM – 1:00PM


You are invited to the first meeting of the Monthly E-Lit Reading Group this Thursday at 12pm. The group is open to all: undergrads, grads, faculty, staff, and beyond!  Meetings usually last an hour with a little spill over.
What are we? We're a group interested in exploring cutting-edge developments in digital creativity in the literary realm.  Each month we explore new works, try out new tools, and chat with guest artists and scholars. Maybe this video will help. It's from 10 years ago, but still explains things.
This realm includes everything from virtual reality to twitter bots, augmented reality to twitterbots and games.
You can also find more about digital literature HERE.
Zoom Meeting URL: https://usc.zoom.us/j/93991342483
Zoom Meeting ID: 939 9134 2483
Friday, September 17th, 4:00PM – 5:00PM


Got a burning idea for a game but not sure how to get started? This Friday, MEGA will be holding a paper-prototyping workshop where we'll explore the basics of game design and rapid iteration! Attendees will have the opportunity to create paper prototypes for games centered around a theme and showcase them at the end to their peers. This event is great practice for quickly creating game concepts and testing game ideas, so come on down if you want to make some games! This workshop will be taking place this Friday at 4 PM PST in SCI207.
*Face masks and a valid Trojan Check are required for attendance to all USC classes and events.