term: fall | date: 20th September, 2021

USC Games is proud to once more be a sponsor for Game Devs of Color Expo, taking place September 23rd – 27th. We have been provided a number of passes for students to attend the various lectures and events taking place during the Expo. To sign up to receive one of these passes, please fill out this form with the pertinent information. We encourage all interested USC students to seize this opportunity to explore the games and developers that are on the forefront of diversity and inclusion in our industry.

We wish to extend our warm congratulations to the team of Alpaca Stacka (MFA thesis students Michelle Ma and Sebastian Baracaldo), which exited this summer as a viral smash on Steam. With over 100,000 downloads, this five minute game published by Spookulele Games made quite the splash. Check out the piece written about Alpaca Stacka's success here.

USC Games continues to celebrate the life of Gerald "Jerry" Lawson and his contributions to games. The Gerald A. Lawson Endowment Fund for Black and Indigenous Students is a USC Games driven initiative to further amplify marginalized voices in games.
In this piece written by NPR, we are given a rare insight to the man behind this endowment fund by his own children, Karen and Anderson Lawson, as they strive to honor his legacy.

Congratulations go out once again to Abby Sherlock and Kathryn Yu, the dynamic team behind Heirloom.
Heirloom won Favorite Game Developed by a woman or female majority team as a student entry out of competition against Indie and Triple A nominees. Abby also won the portfolio award alongside all the shortlisted students in this category.

The goal of the Alfred P. Sloan Foundation film school program is to influence the next generation of filmmakers to create more realistic and dramatic stories about science and technology and to challenge existing stereotypes about scientists and engineers through the visual media.
The goal is not to propagandize on behalf of science or to create exclusively positive images of scientists and engineers. Rather, the Sloan program aims to help aspiring and professional screenwriters and filmmakers integrate science and technology themes and characters into their work.
All currently enrolled undergraduate and graduate SCA majors from the seven academic divisions are eligible and encouraged to apply for any of the listed Sloan grants.
Attendance is mandatory for all undergraduate and graduate majors planning to apply for one of the Sloan Foundation Grants for Production, Screenwriting, and Games.
Wednesday and Thursday, September 22nd and 23rd, 10am – 3pm


Looking for a job? Attend the Two-Day Fall 2021 Virtual Career Fair! Employers from a diverse array of industries will be looking to hire you. The fair is open to students from all class years and majors. Register on Brazen using your @usc.edu email address to attend.
September 22nd: Full-time Roles
September 23rd: Internships
Get a jump on the competition – check out our website for tips that will help you prepare for the fair, polish your resume, dress for success, and network like a pro.
Wednesday, September 22nd


Join us October 22-24th for the 2nd Annual BCI Game Jam.
Sign up as an individual or as a team and create a brain-computer interface (BCI) enabled game in 48 hours. Developers of any level are welcome – we have tools and resources to get you started no matter your experience with BCI or with game development!
This game jam is motivated by the hundreds of children with severe physical disabilties who, until recently, may never have been able to play a video game before. As BCI technology grows and matures it will continue to enhance the lives of children (and adults) who have lost significant motor functions. This game jam aims to push the available experiences offered by BCI to new levels for these individuals. We cannot wait to see the wide variety of gaming experiences you will create!
Friday, September 24th, 5:00PM – 6:00PM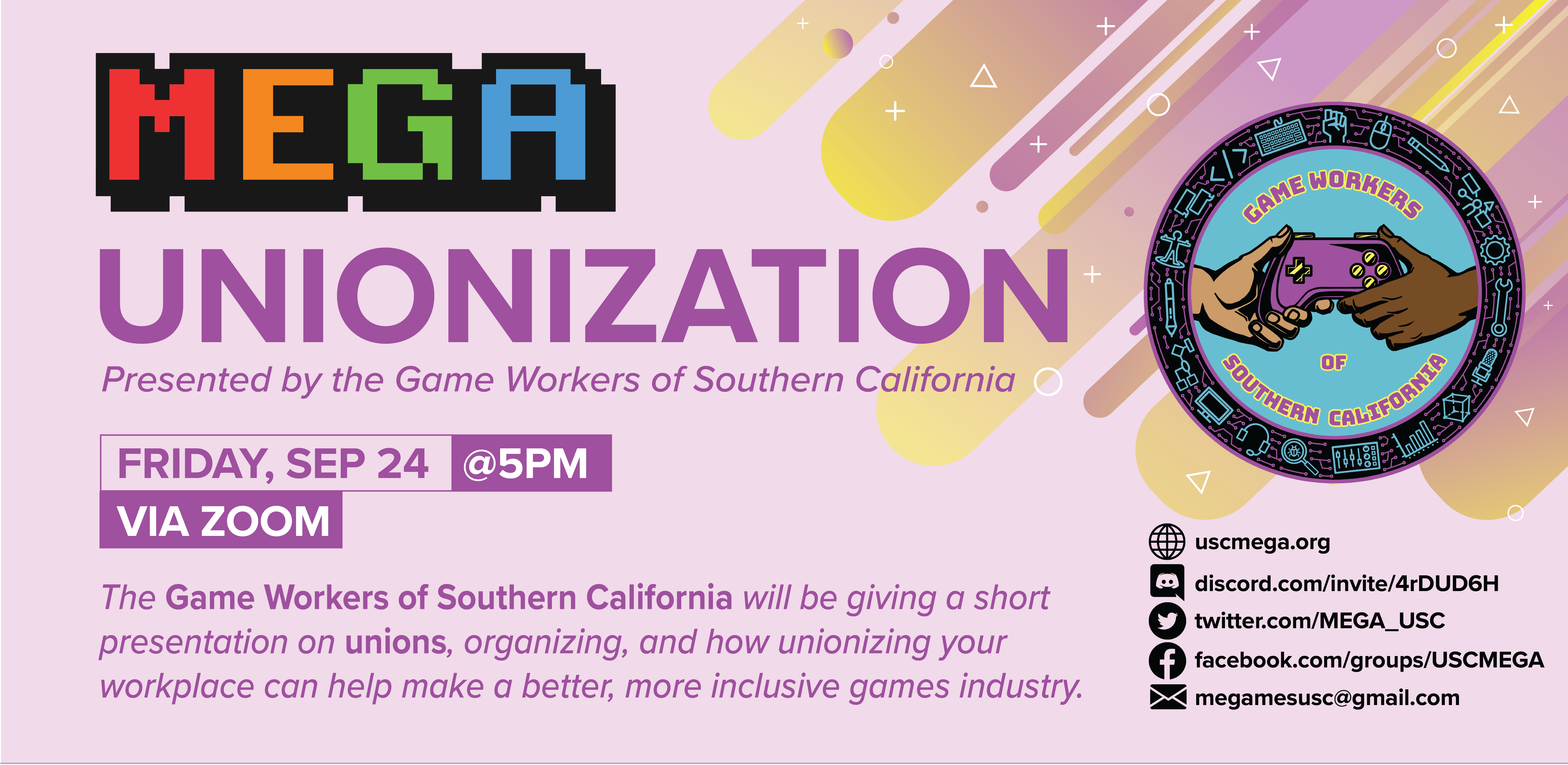 Hey Gamedev Students,
Do horror stories in the games industry concern you? Want to be the change we need? Want to meet seasoned worker-organizers in the industry?
If so, come to our Zoom presentation on Friday, September 24 at 5 PM PST!
The Game Workers of Southern California (GWSC) will be giving a short presentation on unions, organizing, and how unionizing your workplace can help make a better, safer, more inclusive games industry. We will also have plenty of time for your questions about what it's like to work in games! Come and meet people who work in games—ask us your burning questions about games industry unionization! And most importantly, learn about GWSC and how you can build power with others.
Zoom URL: https://usc.zoom.us/j/96224746053
Zoom Meeting ID: 962 2474 6053
Wednesday, September 22nd, 7:00PM – 10:20PM


Want to hear firsthand from the President and CEO of Young Horses Games, creator of Bugsnax and Octodad? Come meet Philip Tibitoski in CTIN-463 and learn about his experience running an indie gamedev studio, and how to maintain a healthy work-life balance as a leader in the industry! Philip is a 10+ year veteran of the games industry with a background in software engineering and game development and will be ready to answer your questions. Please join us at 7pm this Wednesday, September 22nd in SCI 106!
*Face masks and a valid Trojan Check are required for attendance to all USC classes and events.
Friday, September 24th, 3:00PM – 4:00PM


Interested in programming as a career? Want to know what working as an engineer in games is like? Join Charlie Dunlap, Associate Software Engineer at Boundless Entertainment (a Scopely Studio), for a fireside chat with Professor Gordon Bellamy! Charlie is a CS Games graduate and directed the 2020 AGP Retronomicon. Charlie has worked on Marvel Strike Force as well as the unreleased Avatar: Pandora Rising. Learn more about Charlie's journey and how you can forge your own path too, this Friday 24 September 3PM on Zoom!
Zoom URL: https://usc.zoom.us/j/98687459624
Zoom Meeting ID: 986 8745 9624
Passcode: 561375