term: fall | date: 18th October, 2021

What's Green and White and Hype all Over? Well, ok, yes, MONEY.  But also, thanks to our friends at Microsoft Game Studios, FREE Xbox Game Passes for ALL USC Games students, in IMGD and CS Games!  The best of the best games on Xbox, including Sea of Thieves, Halo The Master Chief Collection, Prey, Ori Will o the Whisps, Hades and over 100 more! Request your free code and keep an eye out for a group "Thank You!" Note we want to send back to our friends at Microsoft!
*This is a USC Games student exclusive. USC Games students may check their email for more information on how to claim a game pass.

Hey all – exciting news for those planning their Spring classes:
Two new Technical Game Art classes are offered this Spring in ITP – and no previous game or 'art' experience is necessary. You can also contact Scott Easley to waive the prerequisites. Classes and short video trailer links for each are below.
ITP 351: 3D Character Modeling for Games –
Construct a fully-deformable 3d character model from 2D designs, focusing on the visual communication specific for games: low to medium resolution edge flow polygonal construction, angles of view and motion for a game camera and consistent UV topology.
Taught by industry veteran Mayan Escalante (Treyarch, EA, Double Helix) he makes the exercises engaging and easy to understand: https://mayanescalante.com
and ——–
ITP 361: Character Rigging for Games
Rig up any 3d polygon character with a virtual bone and muscle system specific for use in video games. Inverse and Forward kinematics, blendshapes and pose libraries as well as smooth pipeline delivery for automatic updates during production.
Taught by Scott Easley, having rigged video game characters at Electronic Arts, Oddworld Inabitants and THQ – come learn digital rigging for any 3d character!
Both these classes contribute toward the USC Games' Game Art Minor and greatly helps preparing for the Advanced Games Program.
Come be the future of gaming!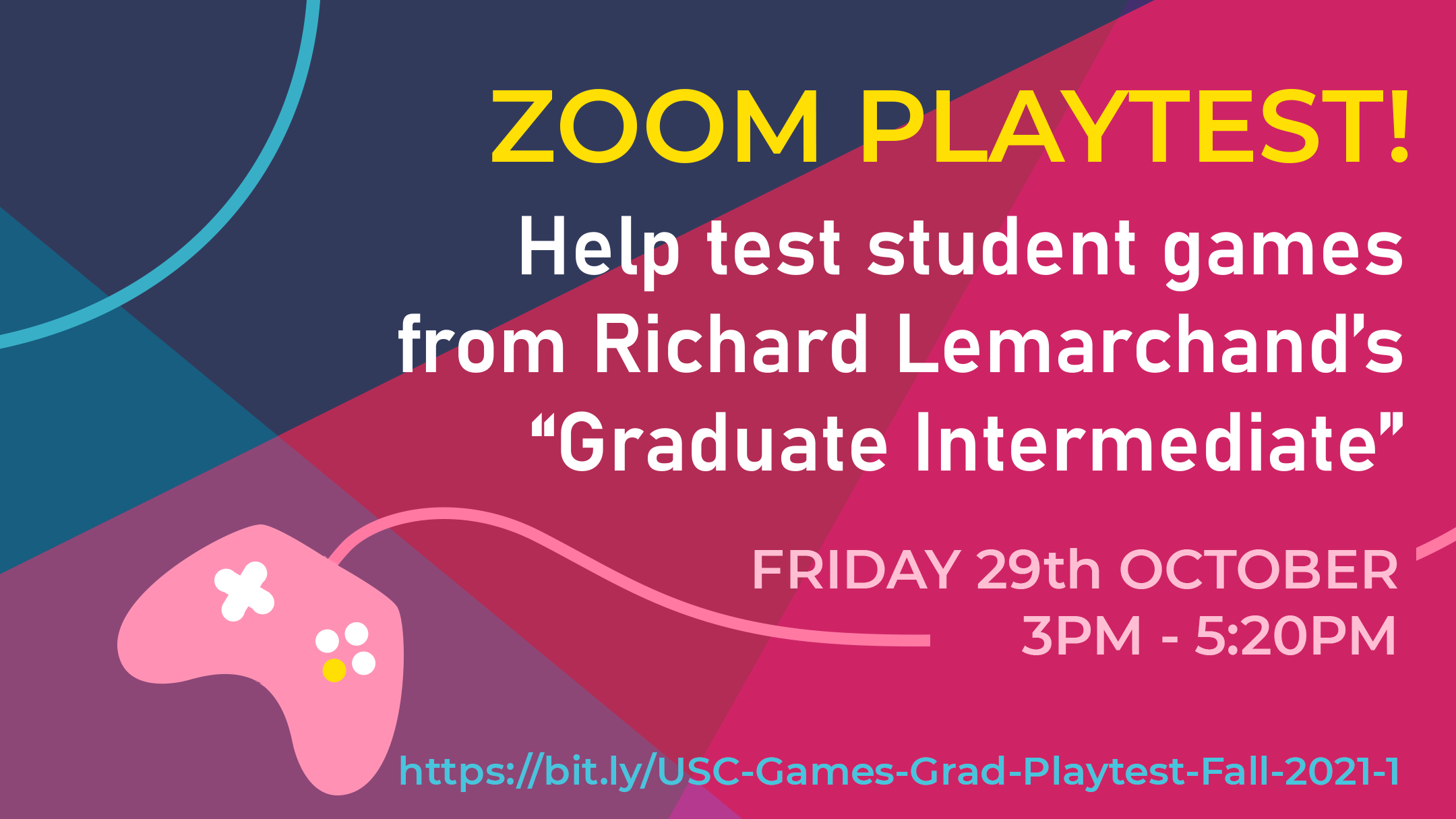 Dear friends,
We need your help to playtest a group of great games being designed by the excellent graduate students from Richard Lemarchand's intermediate design and production class!
We will be playtesting via Zoom! The playtests will take place at:
FRIDAY 29th OCTOBER 2021 from 3:00PM to 5:20PM (LOS ANGELES TIME)
You can come from 3pm to 4pm, or from 4pm to 5:20pm, or stay for both sessions!
*** We can't promise to keep you busy playtesting for the whole time, but you are welcome to do other stuff while you wait to play! ***
Thanks in advance for your help!
Very best wishes,
Richard Lemarchand
Wednesday, October 20th, 1:00PM – 2:00PM



We are excited to invite you to our Unity Technologies Summer Intern Program Information Session. Our team will be sharing about our organization here at Unity and what internship opportunities we have available. It is an opportunity for you to engage with recruiters and ask any specific questions you may have.
We look forward to seeing you there!
Unity (NYSE: U) is the world's leading platform for creating and operating real-time 3D (RT3D) content. Creators, ranging from game developers to artists, architects, automotive designers, filmmakers, and others, use Unity to make their imaginations come to life. For more information, please visit us here.
At Unity, Inclusion is driven by empathy, respect, and opportunity.
Wednesday, October 20th, 7:00PM – 10:20PM


Calling all aspiring gameplay programmers, engineers, and Halo fans! This week CTIN-463 is happy to welcome Gabrielle (Brie) Chin-Deyerle, Senior Gameplay Programmer from 343 Industries! As a software engineer with over 10 years of experience in the gaming industry, Brie is returning to her Trojan roots to share her journey at Microsoft within Xbox Games Studios developing crucial features and systems for the Halo Series and more! Now as an Engineering Lead for Halo Infinite's Academy & Bots, and a mentor for multiple interns, she is at the forefront of development while also helping new talent excel. Come meet Brie and be ready with questions this Wednesday, October 20th at 7pm @ SCI 106!
*Face masks and a valid Trojan Check are required for attendance to all USC classes and events.
Friday, October 22nd, 3:00PM – 4:00PM


Interested in EPIC stuff after college? Join Francesca Palamara, Production Assistant at Epic Games, this Friday for a fireside chat with Professor Gordon Bellamy about her venture into the industry! Francesca is a MFA IMGD '21 graduate, the UX designer on mobile game Cats Your Vote and the director of Indiecade Impact Award nominee Alma. She has worked on Fortnite, Disney mobile games, and an unannounced Walking Dead project. Francesca has also obtained multiple scholarships, most notably from the George Lucas Family Foundation, Generation Google for Women in Gaming, and the Academy of Interactive Arts and Sciences. Come chat with Francesca this Friday, 3PM PT on Zoom!
Zoom URL: https://usc.zoom.us/j/98687459624
Zoom Meeting ID: 986 8745 9624
Passcode: 561375
Wednesday, October 20th, 5:00PM – 6:00PM


Join us for a celebration of the launch of the Richard Lemarchand's MIT Press book, "A Playful Production Process: For Game Designers (and Everyone)". Hosted by Gordon Bellamy, Richard will give a short talk about the book, and will answer questions from the audience. We look forward to seeing you there!
Questions are being collected for Richard to answer during the event. You can submit them here, and a moderator will ask the question on your behalf.
Thursday, October 21st, 22nd, 28th, & 29th


First Forum is the annual graduate student-run conference hosted by the Division of Cinema and Media Studies at the University of Southern California School of Cinematic Arts. We organized this year's conference around three goals: First, we aim to bring together graduate students and faculty from around the world to share exciting, upcoming scholarship relevant to cinema and media studies and its adjacent fields. Second, we aim to give graduate student scholars at USC and elsewhere an opportunity to present and receive feedback on their work in a friendly and welcoming community of their peers and mentors. Third and finally, given the long-term challenges of the Covid-19 pandemic, virtual conferences, and the realities of Zoom fatigue, we aim to convene people for a program that is not psychologically draining, but thought-provoking and sustainable for speakers, participants, organizers, and attendees. To this end, instead of a traditional academic conference, the program has been organized around four evenings of programming spread over two weeks. We hope that you will help us achieve these goals by asking thoughtful questions, offering constructive critique and discussion, and being respectful of the contributions, experiences, and dignity of all participants.